Liza Zimmerman did a great job of summarizing a "look over the horizon" based on one of the panel discussions held this week at Vinexpo New York in an article that ran on Wine-Searcher's Newsletter. (You can read the whole article…and its worth it…here: https://www.wine-searcher.com/m/2019/03/challenging-times-ahead-for-us-wine.)I was there as well and was equally impressed with what the panel had to say. They were: Chris Adams, CEO Sherry-Lehman; Bill Terlato, CEO Terlato Wines; Rick Tigner, CEO of Jackson Family Wines; Steve Slater, EVP/GM of Southern Glazer's Wine & Spirits. To be clear, what they said wasn't unknown, but it did help put into perspective some of the actions wine and spirit producers can and should be taking now to capitalize on what's coming next, next.
So here's the advice I've been giving to my clients: Every spirit and wine brand, whether currently imported into the U.S. or wants to be, needs an e-commerce strategy and infrastructure plan for two contingencies: 1) If the pending Supreme Court case decision includes and impacts e-commerce with their ruling in June, and 2) a strategy/infrastructure plan for the status quo. The key for the latter is a more positive proactive understanding over the impact on interstate e-commerce resulting the common carrier crackdown. The reality, intrastate e-commerce is rapidly growing in the 30+ states where intrastate shipping from retailers to consumers in a given state is allowed. And it represents a powerful tool for smaller brands to be able to compete on a more level playing field with their peers, as well as mega brands.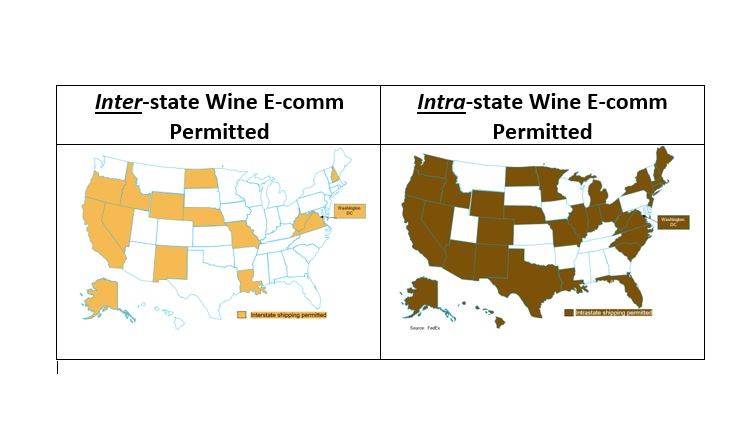 Sparkling wine producers also need a strategy for branding, positioning and pricing for to exploit the radical change in appreciation and purchase of sparkling wines that Prosecco has created. This speaks not only to Champagne of course, but also Cava from the Spain, Crémant from France, and sparklers from Franciacorta and TrentoDOC in Italy, to bubble brands produced in every other country.
Canned wines have finally come of age. Producers need to explore how they can add value to the concept. Or better yet, do cans better than what's already out there by looking at factors such as pressures, residual sugar, protecting flavors and packaging of not just individual units but multipacks and carriers.
A strategy for Amazon's blockbuster announcement in 2017 buying Whole Foods, and their latest statement about entering the grocery business. I've been saying since the Whole Foods deal that it was ironic that the leader in e-commerce finally figured out they had to buy a brick and mortar chain in order to do e-commerce in the wine biz. My point being that Amazon wasn't getting into the wine e-comm business. They were more interested in redefining the grocery business from one of commodities and price competition, to focusing on family meals and adding value to the experience.
Delivery-within-an-hour programs such as Drizly and Minibar Delivery are just scratching at the surface of the convenience aspect of purchasing alcoholic beverages. The same opportunity applies to them…how to add value to the meal experience, only in this case covering not just wine, but spirits and beer as well.
Rethink and restate your brand positioning in terms of telling stories, and leveraging emerging tools that are on the cusp of redefining how people buy bev alc. Here I'm talking about not just social media, apps such as Vivino, VinePair and Wine-Searcher, but also the transformative impact label recognition will have on the industry. Think "long tail" for labels. Add to that the 19 Crimes case history (and extension into beer) and you can see just how tectonic that change will be.
Lastly, have a strategy for DtC (direct to consumer). Right now it's a door open only to domestic and craft producers…and one embraced by the smaller ones who have been blocked out of the three-tier system. I believe import brands will be able to participate in that route to market soon. And I say that because the CBMA tax credit was the first chink in the armor of the Federal Government limiting export producers with a different set of rules.
Bottom line, change is constant. Successful producers will be the ones who anticipate the future and use creative leadership and nimbleness to exploit new opportunities before they actually arrive.
What do you think?