I'm sharing a research report courtesy of a team of wine marketing profs. from Sonoma State University and published by WineBusiness.com. The subject was digital marketing by domestic U.S. wineries, but the numbers are a good point of reference for export wineries as well.
And a note to export producers…We're all waiting with bated breath to hear the ruling by the U.S. Supreme Court on a case that will have potentially significant impact on wine e-commerce. The decision is anticipated to come in May/June.
Are You Selling Enough Wine Online? Status of Digital Marketing Strategies of U.S. Wineries
by Liz Thach, MW, Damien Wilson, and Pierre Costa
April 22, 2019
Global online retail sales reached $2.3 trillion in 2017—a 24 percent increase over the previous year – and is expected to grow to $4.8 trillion by 2021, according to eMarketer. All around the world consumers are increasingly using their fingertips to shop rather than visit brick and mortar stores. Indeed, Pew Research reports that 79 percent of American now shop online. When it comes to wine however, a recent survey of over 1,000 U.S. wine consumers shows that only 27 percent have purchased wine online. Part of the reason for this is onerous shipping regulations that differ by state, the need for an adult signature to receive alcohol, and high shipping costs. But could there be another reason?
Could it be that U.S. wineries are not reaching out to consumers via digital marketing the way companies in other consumer products industries are?
The World of Digital Marketing
In order to investigate this hypothesis, a survey was developed jointly by Sonoma State University Wine Business Institute (WBI) and SommDigital.com. The purpose was to examine digital marketing strategies and practices used by U.S. wineries. The results reveal that there are a number of innovative wine businesses that are adopting and benefiting from digital marketing, but that others are struggling. This survey also serves as a benchmark that can now be measured over time.
Methodology
An online survey was developed and beta-tested before sending it out to a list of 3,362 email addresses obtained from the Wine&Vines database. The email was sent to individuals responsible for making digital marketing decisions, and job titles associated with Marketing, DTC/Wine Club, Public Relations, and Sales. Two follow-up emails were sent over the course of 3 weeks to remind wineries to complete the survey. In the end, a usable set of 257 responses was collected. The data were analyzed for significant differences using Microsoft Excel.
About the Respondents
Wineries from 30 U.S. states responded to the survey, with 58 percent from California, 10 percent from Oregon, 5 percent from Washington, and the remainder from other states. Case production included 59 percent from small wineries producing less than 10,000 cases annually; 35 percent producing 10,000 – 500,000 cases; and 6 percent producing more than half a million cases. Forty-four percent of the respondents said they were the winery owner. In terms of customers who purchase wine online, an average of 51 percent were identified as wine club members, with the remaining 49 percent being consumers who were attracted to the website to purchase wine.
Results – Broad Range of Digital Practices Being Used
Digital marketing can be defined as "any form of online interaction for the purpose of creating demand for products and services." This can occur on any online platform, such as computer, tablet, or mobile phone. With this in mind, respondents were asked which of seven major digital practices they were engaged in. The findings (Chart 1) show that U.S. wineries are using all of these practices, with social media used most commonly by 98 percent of the sample; followed by e-commerce at 76 percent and SEO at 45 percent. Least used was paid search/SEM at 11 percent.
Chart 1: Major Digital Marketing Practices Used by U.S. Wine Industry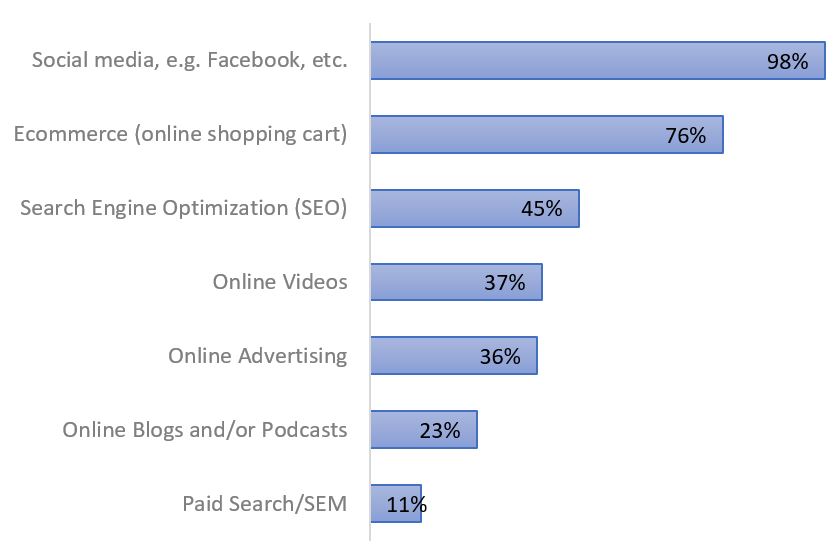 Social Media Usage
Since social media were used so frequently, we analyzed the types of social media platforms and discovered that Facebook is used the most at 98 percent, Instagram 88 percent, Twitter, 67 percent, Yelp 47 percent, TripAdvisor 46 percent, and YouTube at 35 percent. Since Facebook is more popular with older demographics and Instagram with younger consumers, this is positive to learn that many wineries are reaching out to both segments. It also shows that they are concerned with monitoring customer rating sites such as Yelp and TripAdvisor to support positive wine tourism. However, there appears to be more opportunity to engage with consumers via video platforms.
Digital Marketing Goals
Clarity and measurement around digital marketing goals are considered to be two of the most important actions when implementing digital marketing strategy. Therefore, respondents were asked: "What are the major goals for your digital marketing strategy? Check all that apply." The results show that brand awareness is the most important goal at 82 percent of the sample, followed by increasing traffic to website 74 percent; improving sales revenue 71 percent; and customer engagement at 69 percent. Overall these goals seem positive, but when asked about measurement, 34 percent of the sample reported they do not measure digital marketing results.
Chart 2: Winery Goals for Digital Marketing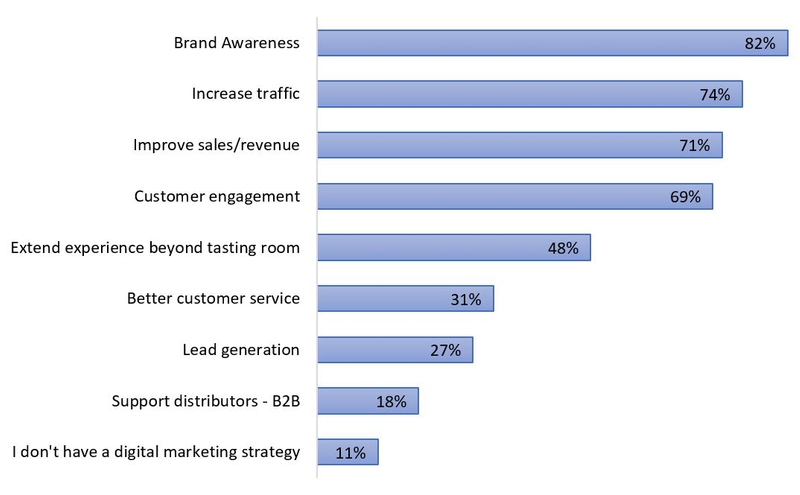 Labor and Budget for Digital Marketing
In terms of who is responsible for implementing digital marketing (See Table 1), 45% of respondents reported they delegate it to an employee who has other job responsibilities, but 29% of the work is actually performed by the winery owner. A smaller number have a dedicated employee for digital marketing or outsource it. In terms of how much of the marketing budget is spent on digital,42% said they spend 5% or less on digital, but 25% reported they spend 21% or more of their marketing budget on digital.
Table 1: Who Performs Digital Marketing Work at Your Winery?

Challenges in Implementing Digital Marketing
When asked about challenges faced with implementing digital marketing strategies, the top issue was a lack of knowledge identified by 45 percent of the sample, followed by a lack of qualified staff at 36 percent, shipping regulations at 35 percent, and cost at 31 percent. These challenges are consistent with findings from research in other industries regarding the adoption of new technologies.
Activities to Increase Online Wine Sales
Despite these challenges, a small percentage of the sample reported that they are currently achieving 21 percent or more of their revenues via online wine sales. Therefore, this group was compared against the rest of the sample to determine what, if anything, they were doing differently. The results show statistically significant differences in the categories listed below:
Focus on Lead Generation – higher online revenue-generating wineries were much more concerned with generating online leads with customers

Higher Use of Online Video – wineries with higher online revenue reported a much higher use of online video platforms, such as YouTube.

Database Analysis – these wineries made sure to analyze online consumer purchase history and online interactions with consumers so they could understand their needs and provide targeted wine promotions and recommendations.

Online Event Promotion – winery events were advertised and communicated in multiple online platforms to a larger extent.

Shipment Restriction Concerns – when asked about challenges, the major concern of higher online revenue-generating wineries was shipment restrictions

Case Size was NOT Significant – meaning that it didn't matter if the winery was small, medium, or large in size. This is consistent with other research findings on wine digital marketing.
These differences provide some direction for wineries who are interested in increasing their online wine sales. By focusing first on activities such as online promotions and advertising to attract more consumers to their website, this will generate more leads which can result in higher wine sales revenues. Likewise, adopting an Amazon approach of analyzing customer needs and purchases through database analysis, and then customizing online offers, should also result in higher sales. More use of videos should also be considered. According to BI Intelligence, videos will represent 82 percent of the web traffic by 2021, and Hubspot reports that 64 percent of users are more likely to buy a product online after watching a video. Finally using all available social media platforms to communicate about winery events, as well as via online newsletters, emails, and other digital methods is a good way to encourage consumers to visit the winery. Most likely, in the future, we will see more online winery events as well, where consumers can participate virtually in winery events.
Summary and Implications
These results show that wineries are adopting digital marketing practices, but that there is more opportunity to gain knowledge in the field, get clear on goals and measurement, and expand methods to attract customers to their website. Wine businesses thus need to invest more resources, and implement an effective strategy for the roll-out of digital media across their business in order to take advantage of this opportunity over the long term.
References
Business Insider Intelligence ( 2017) ,Video will account for an overwhelming majority of internet traffic by 2021. June 12, 2017. Available at: https://www.businessinsider.com/heres-how-much-ip-traffic-will-be-video-by-2021-2017-6

eMarketer. (2018) Worldwide Retail and Ecommerce Sales. Available at: https://www.emarketer.com/Report/Worldwide-Retail-Ecommerce-Sales-eMarketers-Updated-Forecast-New-Mcommerce-Estimates-20162021/2002182

Hubspot (2018). The Ultimate List of Marketing Statistics for 2018 (Source: https://www.hubspot.com/marketing-statistics)

Pew Research (2016). Online shopping and ecommerce. Available at: https://www.pewinternet.org/2016/12/19/online-shopping-and-e-commerce/

Thach, L. & Camillo, A. (2018).Snapshot of the American Wine Consumer in 2018. Winebusiness.com. Dec. 10, 2018. Available at: https://www.winebusiness.com/news/?go=getArticle&datald=207060

by Liz Thach, MW, Damien Wilson, and Pierre Costa
About the Authors: Dr. Liz Thach, MW (liz@lizthach.com) and Dr. Damien Wilson (Damien.wilson@sonoma.edu) are both professors at Sonoma State University's Wine Business Institute. Pierre Lincoln Costa (pierre@sommdigital.com) is the Founder of SommDigital, a firm that focuses on offering digital marketing solutions to global wineries (http://SommDigital.com)